Book a table online
We now accept bookings for Tuesdays, Wednesdays and Thursdays through our website.
Christmas at Mamma Mia
View our Christmas Menus and book your festive celebrations at Mamma Mia!
Opening Times
Lunch
Friday and Saturday
Lunch 12:00 – 2:00pm
Dinner
Tuesday – Thursday
5:00 – 9:00pm
Friday and Saturday
5:00 – 10:00pm
Sunday and Monday
Closed
Our telephone booking line is open between 3:30pm and 10:00pm Tuesday to Saturday.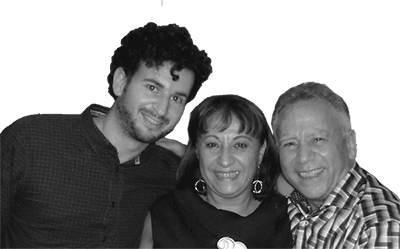 Thanks for calling into Mamma Mia, Bradford's favourite Italian restaurant. We're Nella and Gianni Massimo – and that's Leno on the left. We've been preparing and serving authentic Italian food in Bradford for over 30 years. Owned and run by our family from the start, we've been delighting our customers with quality Italian home cooking since 1985. Our menu is a treasure trove of Italian favourites and our range of vegetarian dishes is extensive. We also have a black board of special dishes which changes frequently. Our special dishes always feature seasonal produce and fish with the occasional creative surprise from the Massimo Family kitchen!
Keep up to date Mamma Mia's Social Media
Proud partners with
Bradford City FC